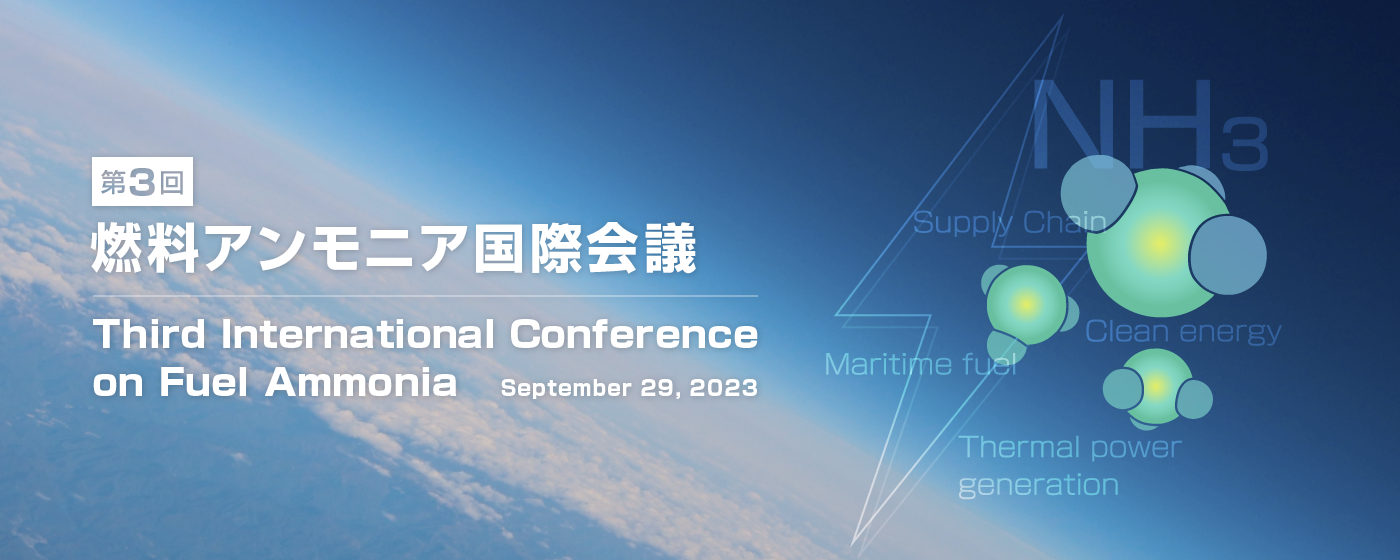 The Conference has finished. Thank you for your attending our conference.
important
Notice of Website Closure for ICFA2021
Conference Information
Date

Friday, September 29, 2023, 14:00 - 17:00 (JST, +0900)

Format

Hybrid (Livestreaming scheduled)

Venue

Hitotsubashi Hall
National Center of Sciences Building 2F, 2-1-2 Hitotsubashi, Chiyoda-ku, Tokyo

Language

English / Japanese (Simultaneous interpretation)

Organizer

Ministry of Economy, Trade and Industry (METI)
Clean Fuel Ammonia Association (CFAA)
Conference Outline
Fuel ammonia is keenly anticipated to be an effective means to combat global warming. This International Conference will take place with the aim of development of stable, affordable and flexible ammonia supply chains and markets. It will serve as a platform for both public and private sectors to share their strategies, initiatives and challenges, while reviewing the steadily growing awareness of ammonia in the international arena such as G7 Summit 2023.
In the technology developments of fuel ammonia, research of the realization of zero-emission thermal power generation has been leading until now. However, today's ammonia has remarkably extended its significant role in various practical application. It can be used as marine fuel, fuel for industrial furnaces, and to produce hydrogen by cracking ammonia. The hydrogen is used as fuel or as a raw material for chemicals. Moreover, overseas initiatives are launching a string of projects to produce blue ammonia and green ammonia. Throughout the Conference, discussion will center on the potential and future prospects of the ammonia, clearing a path to make broader contributions with a long-term perspective toward decarbonization.
As you will be aware, the Conference is held as a part of Tokyo GX Week which the Ministry of Economy, Trade and Industry (METI) is organizing with a target of a realization of green transformation (GX), following last fall's event. The GX is a successful shift in industrial structure to a clean energy-centered economy and society, which leads to not only decarbonization but an economic growth and development.
Program
Session 1: Opening Session
Opening Remarks

Mr. INOUE Hiroo
Ministry of Economy, Trade and Industry
Agency for Natural Resources and Energy
Director-General, Energy Efficiency and Renewable Energy Department
Session 2: International Agency / Research Institute Session
Message

Dr. Fatih Birol
International Energy Agency (IEA)
Executive Director
Towards hydrogen definitions based on their emissions intensity

Dr. Timur GÜL
International Energy Agency (IEA)
Chief Energy Technology Officer
UNIDO's Hydrogen Strategy and Green Ammonia Project

Dr. YASUNAGA Yuko
United Nations Industrial Development Organization (UNIDO)
Deputy to the Director General and Managing Director
Director General's Special Representative for Asia/Pacific
Issues and Challenges of Fuel Ammonia in EAS Region

KIMURA Shigeru
Economic Research Institute for ASEAN and East Asia (ERIA)
Special Adviser to the President on Energy Affairs
Session 3: Industry Session
Topic 1:Signing of Memorandum of Understanding (MOU)
Topic 2: Contribution to low-carbonization in a wider range of industries
Utilization of clean ammonia fuel to achieve zero emissions in the shipping industry

YOKOYAMA Tsutomu
NYK Line
Executive Officer
Development of fuel ammonia combustion technology in glass melting furnaces

KAMIYA Hiroki
AGC Inc.
Executive Officer
General Manager, Innovative Technology Laboratories, Technology General Division
Ammonia cracking technology development project funded by NEDO

AIKA Masahiro
JGC HOLDINGS CORPORATION
Senior Executive Officer
Technology Commercialization Officer
General Manager, Sustainability Co-creation Unit
The challenge for zero-emission thermal power and building fuel ammonia supply chains

OKUDA Hisahide
JERA Co., Inc.
President, Director, CEO and COO
Fuel Ammonia Value Chains
The Key to Achieving Carbon Neutrality

IDE Hiroshi
IHI Corporation
President
Chief Executive Officer
Green Ammonia – Pivot for a Successful Clean Energy Transition

Raj Kumar Jain
Adani New Industries Limited (India)
Senior Vice President
Head - Business Development, Green Energy & Green Hydrogen
MHI Group Activities to Establish Ammonia Value Chain for Fuel Use

KAGUCHI Hitoshi
Mitsubishi Heavy Industries, Ltd.
Senior Executive Vice President
Topic 3: Development of a Fuel Ammonia Supply Chain
Initiatives for Establishment of Fuel Ammonia Supply Chain

HARIYA Takao
Mitsubishi Corporation
Head of Next-Generation Fuels & Petroleum Division,
Next-Generation Energy Business Group
Mitsui's and CF Industries' strategies for a sustainable clean ammonia supply chain

FUKUOKA Junji
MITSUI & CO., LTD.
Managing Officer
Chief Operating Officer of Basic Materials Business Unit

Jonathan Flynn
CF INDUSTRIES HOLDINGS, INC.
(United States of America)
Director of Clean Energy Solutions
Sustainable path to Low-carbon Energy

Amin N. Nasser
Aramco (Saudi Arabia)
Director of Chemicals Business Strategy & Development
Fortescue Energy

Felicity Underhill
Fortescue Future Industries (Australia)
Head of Marketing and Strategic Partnerships,
South East Asia
Accelerating the Low CO₂ Ammonia Adoption

Luis Sarrás
AES Corporation (Chile)
International Green Hydrogen Vice President
Strategic collaboration for a more sustainable world

Malebelo Maphutha
Sasol South Africa Limited (South Afirica)
Head Market Formation – Policies & Measures
Low Carbon Energy Solutions
Topic 4: Support for Expanding Supply
JOGMEC's Support for Fuel Ammonia Value Chain Realization

ASAWA Satoshi
Japan Organization for Metals and Energy Security
Executive Vice President, Energy Business Unit
JBIC's Actions for Global Fuel Ammonia Supply Chain Development

AMANO Tatsushi
Japan Bank for International Cooperation
Managing Executive Officer
Global Head of Energy and Natural Resources Finance Group
Session 4: Panel Discussion
Key Challenges for Clean Fuel Ammonia Supply Chain Development
Moderator

MURAKI Shigeru
Clean Fuel Ammonia Association (CFAA)
President
Panelist

Murali Srinivasan
Yara Clean Ammonia (Norway)
Senior Vice President, Commercial
Panelist

Cindy Lim
Keppel Infrastructure Holding Pte Ltd (Singapore)
Chief Executive Officer
Panelist

OKADA Masaki
BP Japan K.K.
Representative Director Chairman & President
Session 5: Closing Session
Summary Statement & Closing Remarks

MURAKI Shigeru
Clean Fuel Ammonia Association (CFAA)
President